| | |
| --- | --- |
| Featured on WGN, 'Chicago's Very Own" | |
---
Featured in 'Bespoke Soft Furnishings Magazine'
www.bespokesoftfurnishingsmag.com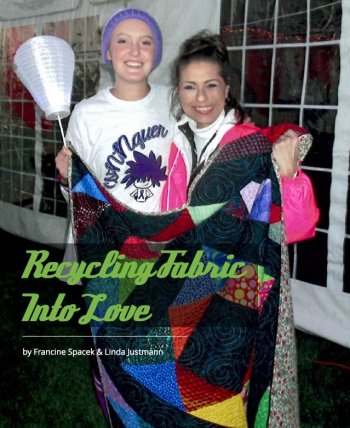 Sewing since 2006, SEWonderful Quilts delivers one-of-a-kind comfort quilts to children with life-threatening illnesses through its clever and caring reuse of designer fabric. All quilts are gifted free of charge to children, from infants on up to 21-years-old, who are dealing with unfortunate healthcare and sexual abuse issues.

Thanks to these gifts of kindness, SEWonderful quilts greatly reduce the anxiety surrounding traumatic healthcare experiences, and have proven to be a prescription of love for these brave children and their families! Recipients include children at children's hospitals, hospices for children and children who have been sexually abused.

Founded by Chicago Interior Designer Francine Spacek, SEWonderful Quilts combines her two passions, children and fabric, into a sewonderful program. To date, the non-profit program has delivered over 3,700 quilts, all created by volunteers using fabrics that would otherwise end up in a landfill. Volunteers include fabricators from quilt guilds, churches, schools, girl and boy scout troops, senior centers, co-workers and individuals. Anyone who can sew a straight line is encouraged to get involved as a one-time activity or on an ongoing basis.

Children are diagnosed daily so the need is great. If you want to create a quilt, become a donor, or know of a child who is eligible to receive a SEWonderful quilt, contact Francine at sewonderfulquilts@hotmail.com. Contributions of time, money, and 100% cotton fabrics are appreciated to help grow our quilt gifting program and increase our recycling activity. Thank you for your friendship and support.

Francine Spacek, Founder
Linda Justmann, Program Development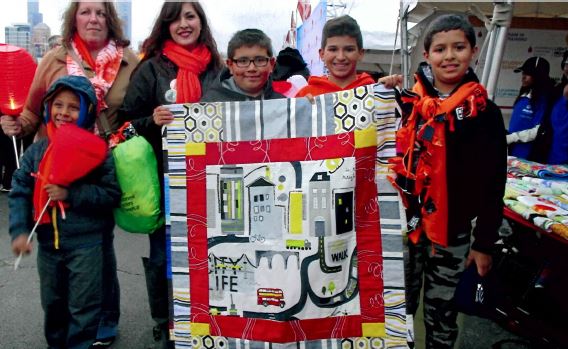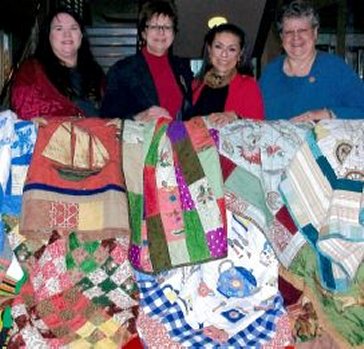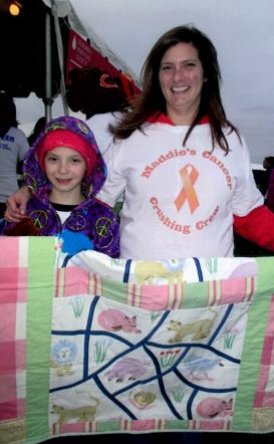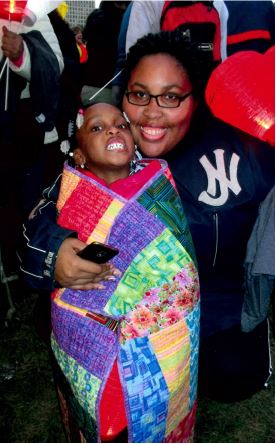 ---
Richard J. Daley Civic Center - Chicago

"Many people who viewed the exhibit walked away with a better appreciation
for a very simple craft that has the power to transform
the well being of individuals, especially the children"
---
Listen to our Podcast Interview on 'The Innovise Guys' website
Click Here
---
"MITY NICE AWARD"
In April 2012, SEWonderful Quilts.org received the "MITY NICE AWARD",
(an award given by the Mity Nice Restaurant in Water Tower Place, Chicago)
saluting Chicagoans who are making a difference in the community.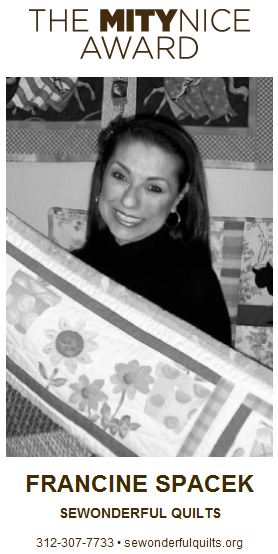 Chicago Native and Interior Designer, Francine Spacek has two passions: Children & Fabric. She combined both and founded SEWonderful Quilts.org, a non-profit organization, in 2006.

SEWonderful Quilts recycles designer fabric into one-of-a-kind quilts which are gifted free of charge to children (Infant-21yrs) suffering with life-threatening illnesses, as well as children who have been sexually abused.

After studying art and design in Florence, Italy, Francine returned to Chicago and opened her design firm in 1986, giving her limitless access to showrooms, workrooms and fabric. She began SWQ by gathering discontinued fabric, creating quilt kits and distributing the quilt kits to volunteers and quilters.

Once completed, the crib-sized quilts are returned to Francine for her to distribute. SWQ's has currently gifted over 2600 quilts to hospitals, hospices and sexual abuse centers such as; Children's Memorial, Rush Children's, Luthern General & St. Jude's Cancer Center.

Spacek believes that SWQ may have been green before the concept became popular, keeping tons of discontinued fabric out of our landfills, and "turning trash into treasures", but the real reward is in knowing that these "gifts of kindness help reduce the anxiety surrounding healthcare experiences for children and their families".

"Children are diagnosed on a DAILY basis", so if you would like to make a quilt or know a child who is eligible to receive a SEWonderful quilt, contact Francine to get involved. We think that would be MITY NICE of you!
---